Link to main page:

We provide service in following areas:
- We emty waste and sewer tanks. Also if you have sewer pipe stuck..
- Waste tank alarms to help prevent unexpect tank fullyness.
- Gravel, sand, crushed stone delivered to customer (near Rautjärvi)
- We also lease empty truck cart/platforms
- Firewood delivered to customer or pick up from our factory
- Clean water delivered with tank truck
- Fire wood with delivery
- Pipes and waiste systems seller
Information for the customers:

Due to our large tank in our truck, we hope that you clear the
driveway from trees and bushes up to 4 meters. Thank you.
More info about waste tank emptying service:
CLICK HERE (pdf file)
Puhdistushuolto J Terävä Ky
Phone: +358400 250 015
Fax: +3585 4772 693
Service in english:
+35840 8331 664
You can also send SMS message
Address:
Silamustie 201
56800 SIMPELE
Email: a s e m a @karjalanbetoni.fi (written together)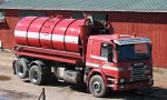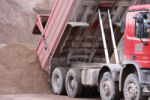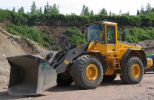 Puhdistushuolto Juha Terävä Ky - +358400 250 015
-Link to: Karjalan Betoni Oy